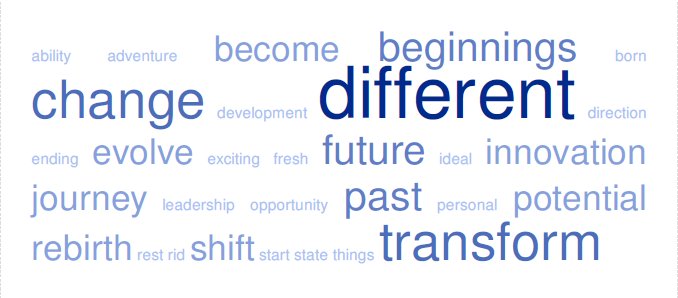 Change.  Looking up the word 'change' generated over 2 million search hits on Google.  It's time for change.  Over the next few weeks and even months, the Dr. Debra Lindh website will be going through, well, change.  Yes, this is true.  Change is often difficult to embrace.  Some people do embrace change, while others shy away and even some completely avoid change.  I'm fully embracing this change.  Thinking of change, these quotes came to mind, "when one door closes, another opens," "a chapter ends, and another begins," and "things do not change, we change."   At the same time, thinking of change has brought these songs to mind:  Don't Go Changing by Billy Joel, Roll With the Changes by REO Speedwagon, and Changes by David Bowie.
I found it interesting that as I planned for change, I noticed that change was already happening.  Everything from planning out the changes, the details, meeting with people to discuss ideas, and putting into place some of the 'doing' items.  So, what exactly is changing with the website, what does it look like, and what does it mean for you?  Here are some of the answers:
Stress.  The Dr. Debra Lindh website is a resource for stress research and consulting; particularly in the areas of occupational stress and employee wellness at the individual, group, and organization levels. This means that sharing of current research, case studies, and publications as well as other resources.
AIR™.  This is an acronym for the process known as AIR™ which means: Assess, Integrate, Results.  This is the type of work I provide: to assess stress, integrate a stress reduction intervention, and measure results.  Why integrate and not implement? I recently said to someone, "Implement means to do.  Integrate means to become." Thus, people learn a new still that becomes part of them which then reduces stress.
Quantum OD™.  Quantum OD™ involves the application of integrating energy-based practices rooted in quantum physics and cultural traditions from Asia, Europe, and the United States to promote transformation and development for individuals, groups, and organizations.  Quantum OD™ works with subtle energies associated with intuition, consciousness, and energetic levels.  These energy-based practices are recognized and practiced by colleagues in organization development as well as psychology and recognized by professional associations such as the American Psychological Association and the Association for Comprehensive Energy Psychology.
Other changes and additions are part of the planning. The above list is a few details with more to come.  Of course, on Twitter I continue to share "Mindfulness Monday" and "Mindfulness Tip" postings as well as supporting images on Pinterest.